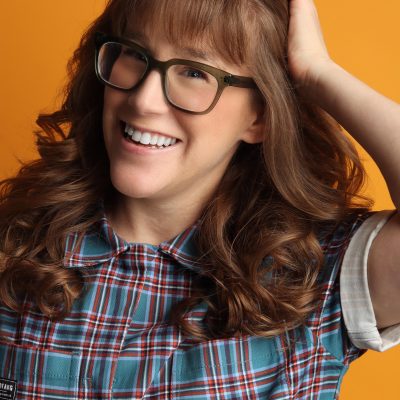 WRITER. DIRECTOR. DAREDEVIL.
Filmmaker Erin Brown Thomas is constantly creating.  As a writer, she gravitates towards dramedy. Her directing portfolio is more eclectic -- boldy oscillating between formalism and naturalism. She has a proclivity for blending genres (most often combining comedy, drama, and choreography) and a knack for creating visually interesting stories that take place in a single room.  Her films have received grants from the National Endowment for the Arts, been curated by Vimeo, and won awards in Academy Award-Qualifying film festivals. 
Erin is a co-founder of Salute Your Shorts Film Festival.
Watch Erin do a back flip!
"A Question Of Service" Wins At Hollyshorts!
A Question of Service, a pilot directed by Erin and starring Narcos and WandaVision actor Hans Obma, won "Best TV" at the Academy Award-Qualifying Film Festival. 
check it out!
Jury-Award Winner At Cinequest!
BUT FIRST... Won the jury prize for best music video at the Oscar Qualifying 2020 Cinequest Film Festival!
watch the film!
THE REVIEWS ARE IN! HERE'S WHAT IT'S LIKE TO WORK WITH ERIN-
"Erin is an amazing talent.  I literally don't know anyone who is working as hard, or more excited to learn, as she is."
Jeremy Howe
Writer, Producer (The Big Bang Theory, Young Sheldon)
"Erin has proved to be an invaluable asset, earning my trust quickly and becoming my true partner in the final stage of my film, Tokyo Project.  She has a fantastic eye, and a true director vision.  From Erin's passion comes enormous creativity, and she executes it with the precision of a driven, talented filmmaker"
Richard Shepard
Emmy-Winning Director
"Erin thrives on set and brings a contagious enthusiasm to projects. I welcome her creative feedback."
Rob Estes
Actor, Director (Melrose Place, 90210, CSI Miami)
"Erin is the industry authority on directing and producing aerial films. Her pioneering vision of storytelling through aerial artistry is endlessly inspiring and flawlessly executed!"
Christa B. Allen
Actress (Revenge, 30 Going on 30)
"Erin is a triple threat! I've read and seen her work as a director and worked with her as an editor. Her natural instincts artistically, her ability to visualize and create a story and her professionalism to stay focused and get the job done are my favorite of her super powers and the core of her talents."  
Deborah M. Pratt
Writer, Director, Executive Producer - Quantum Leap